---
CITY CASH ATM CARD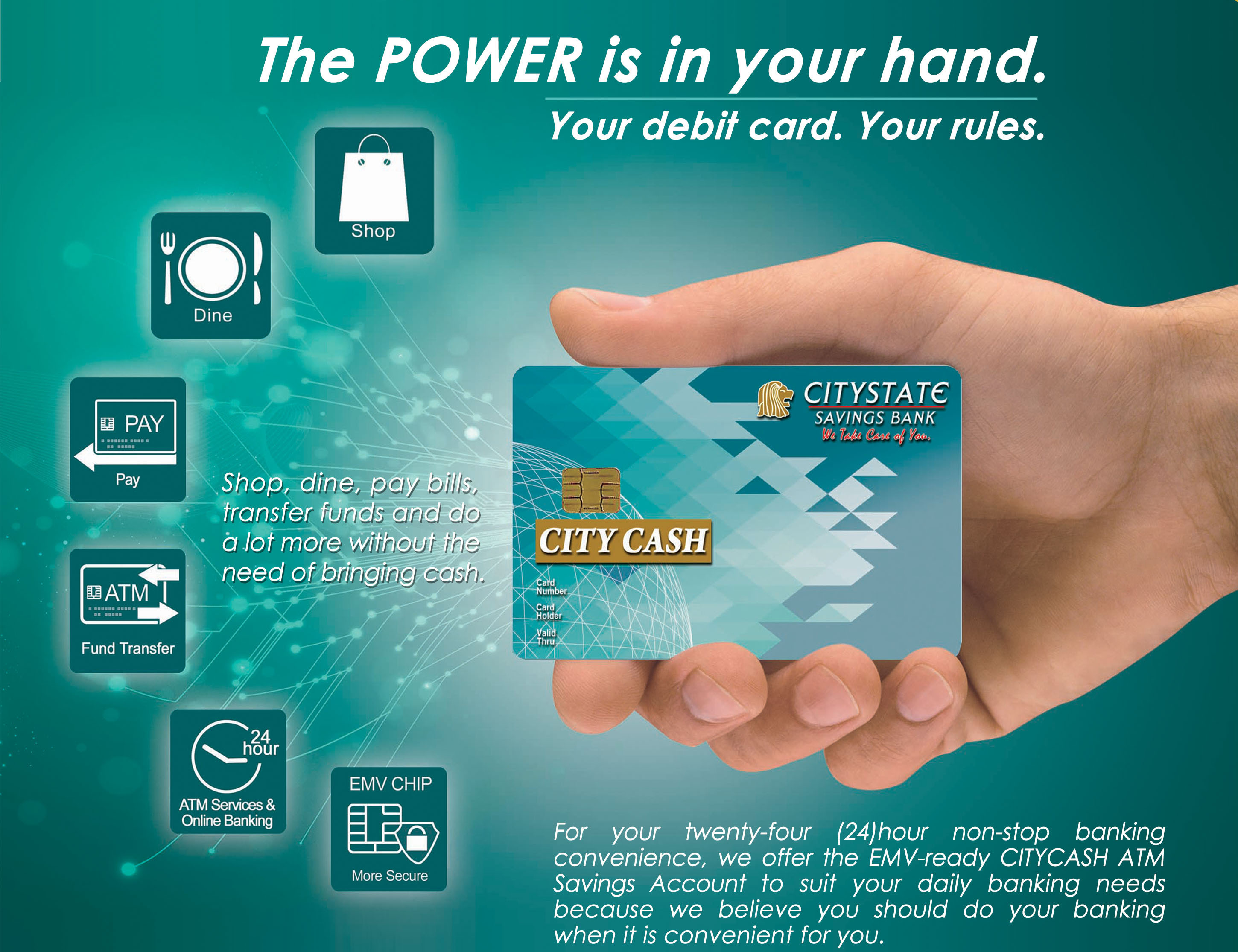 WE TAKE CARE OF YOU
To capture new business in today's competitive market, customer service is always the key. This is why the Bank's strategy is to expedite the processing of transactions and reducing client's waiting time by introducing fast and efficient electronic banking services in its daily operations. Citystate Bank is one of the first to employ the on-line Signature, Verification System and the first to make use of the modern technology in its day one of operations including its fast-track ATM service operations.
Features and Benefits
24 hour on-line banking
Maximum withdrawal of P 40,000.00 per banking day
Pay your credit card bills, utilities and insurance premiums
Cashless shopping through the BancNet payment system in leading department stores and supermarkets
Transfer Funds to other BancNet member bank accounts
Accepted in all BancNet ATMs, Megalink and ExpressNet
Guidelines for Cardholders
Choosing a PIN
Do not use PIN numbers that can obviously be associated with you – e.g. telephone number, birthday, your street number, driving license number.
Choose a random combination of numbers that is hard for other people to guess. If this is difficult for you to remember then use other numbers that have some meaning for you.
Change PIN number at frequent intervals using CSBI ATM.
Keeping your PIN a secret
Do not allow anyone else to use your card, PIN or other security information.
Always memorize your PIN and other security information. If your PIN is difficult to remember, change it to something more memorable.
Always keep your PIN and your card safe.
Never write down or record your PIN or other security information on card or at any place accessible to others.
Precautions while using Automated Teller Machines
Automated Teller Machines (ATMs) provide a fast and convenient banking service for an account holder. You can bank whenever and wherever you want. In order to avoid risks of theft & frauds we are providing these ATM safety tips to protect you and your account. ATM theft can occur in;
Unauthorized withdrawals or
The physical theft of cash as a person completes a transaction.
The following are the safety tips for cardholders using ATM machines will help minimize the chances of becoming a victim of such incidences:
Choosing an ATM
Always observe your surroundings before using the ATM. If you see anyone or anything that is suspicious, do not continue your transaction and leave the area. If there is anything unusual, or there are signs of tampering on the cash machine, do not use the machine.
Use ATMs that are well-lighted.
If possible, choose a machine in a busy area. A heavily trafficked location means additional security.
If you are being followed by anyone after using an ATM, seek a place where there are people, activity and security.
Using an ATM
Prevent anyone from viewing your transaction by blocking the ATM with your body, especially when entering your PIN and taking your cash. If the ATM is in use, give the person the same privacy. Wait for them to move away from the ATM before you approach the machine. Do not accept help from strangers and never allow yourself to be distracted.
Do not accept help from strangers and never allow yourself to be distracted.
In case you have any problem, call the bank's hotline number and inform them about the problem.
While paying the utility bills on ATM check the transaction details. Keep the transaction slip for future reference.
Focus your attention on ATM screen and carefully select the buttons to ensure proper execution of transaction.
Leaving an ATM
After completing transaction, do not forget to get your card back.
Put your money and your card in your pocket, wallet, bag or any safe place before leaving the ATM.
In case your card was captured, report it immediately to your bank.
Get the receipt every time you make an ATM transaction.
Tear up and throw away your transaction receipt, statement or balance inquiry.
MOBILE BANKING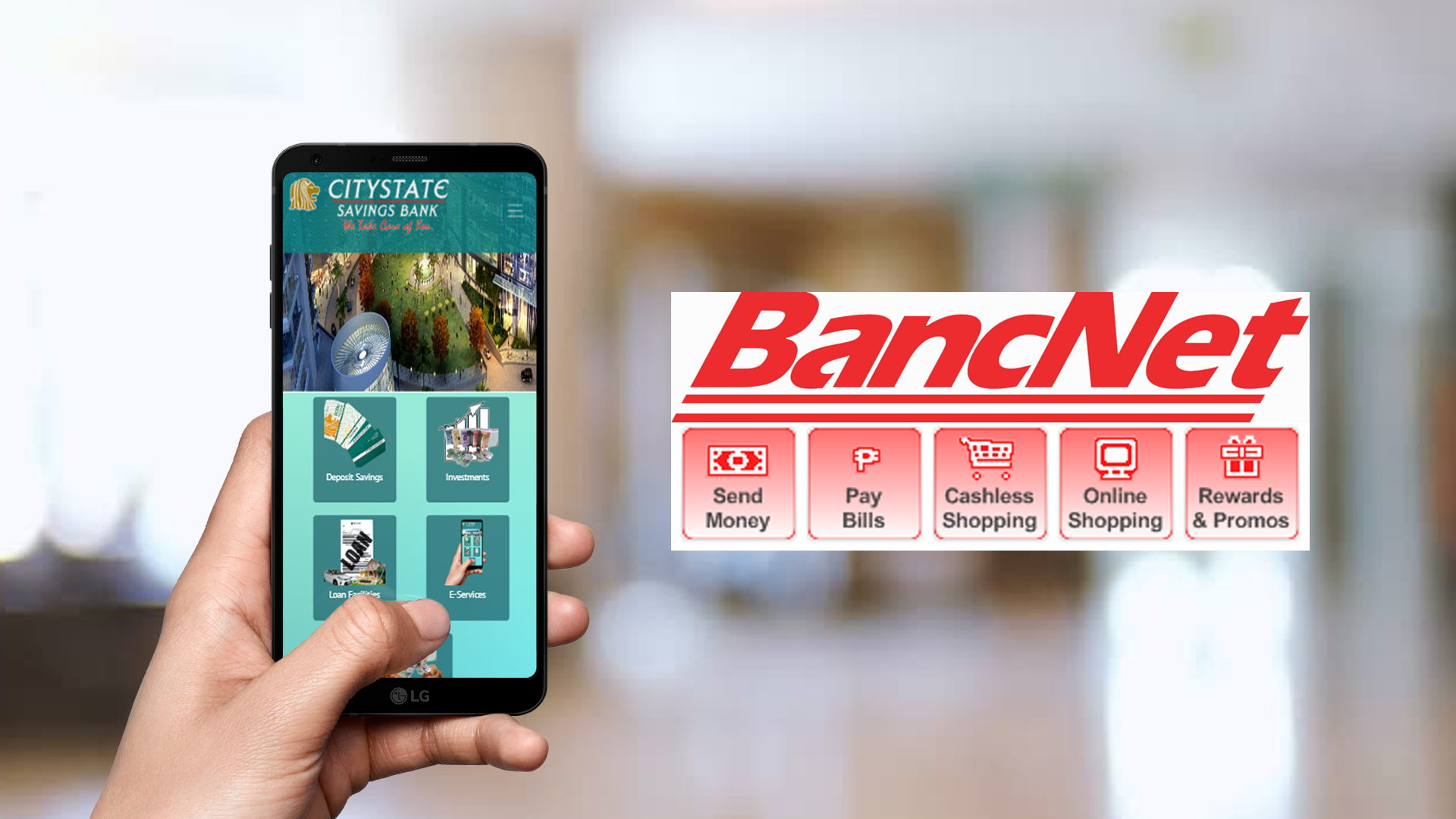 WE TAKE CARE OF YOU
Citystate Savings Bank Inc. now gives ATM cardholders the convenience of doing common ATM transactions such as balance inquiry, bills payment and electronic reloading of prepaid credits via Short Messaging Service (SMS).
Available to all Globe, Smart & Sun subscribers.
Security Features
To make it highly secure, access to Citystate Mobile Phone Banking is through \an MPIN (Mobile Banking Personal Identification Number) known only to the cardholder. "Account keys" are used instead of the customer's real account numbers to keep them confidential. In addition, the service will pass through the existing CITYSTATE security infrastructure that has been reliably working over the years in the banking industry.
How to Register
Online, log on to citystatesavings.com
Click on Online Banking
Read the terms and conditions, you can proceed when you click on the "I agree" button.
In the left of your screen, click on Mobile Banking Registration.
In the Mobile Banking Registration page, fill in the entries then click on the "Submit" button.
You will receive your MPIN on screen upon successful registration.
You will receive your Account Key through SMS a few minutes after activation.
If no SMS is received, proceed to your bank of account to request for activation of your mobile banking account
Mobile Banking Transactions User Guide



BILLS PAYMENT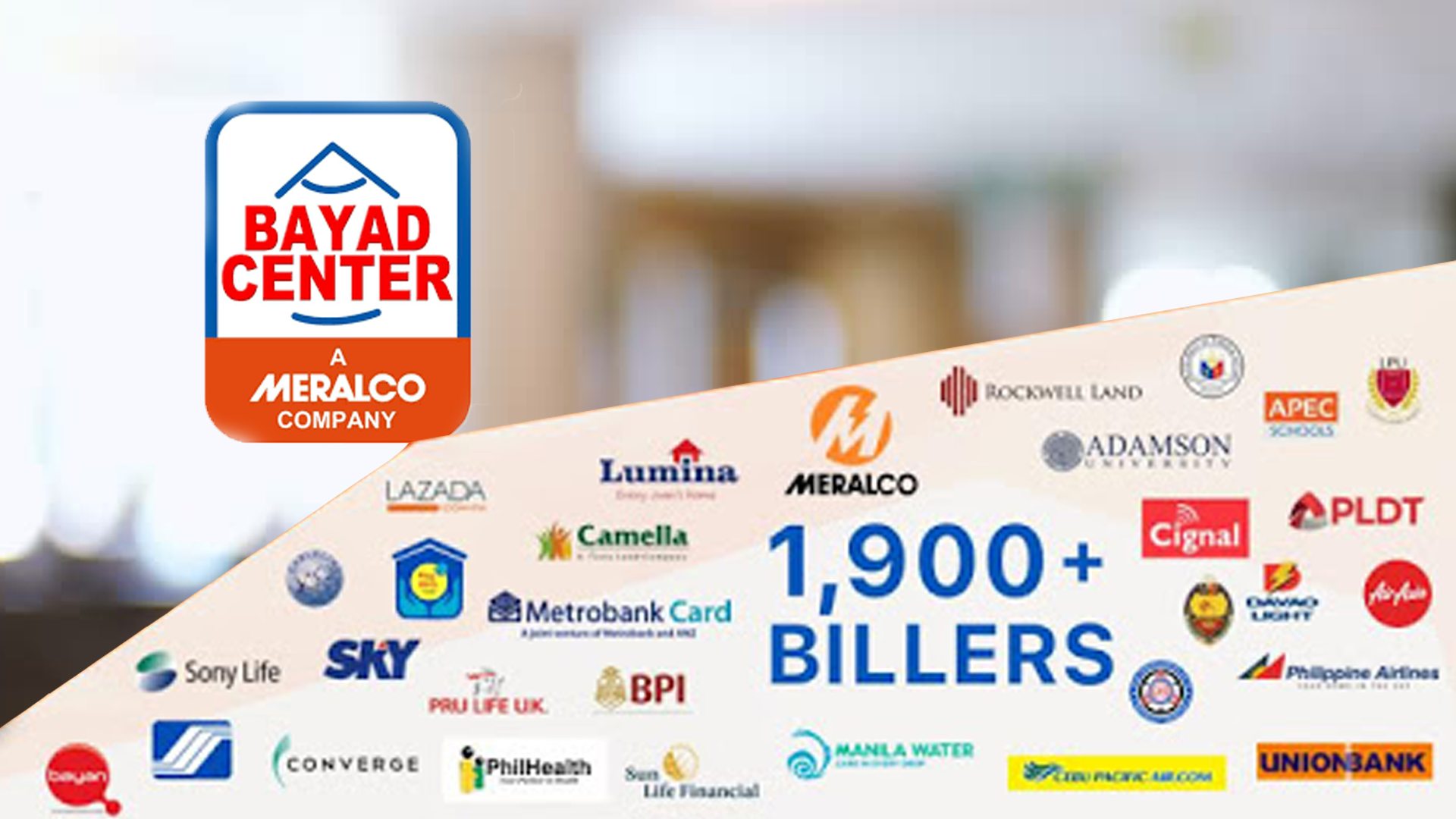 WE TAKE CARE OF YOU
Citystate Savings Bank offers a faster and more convenient way of paying your bills. Gone are the days of burdensome commute to your payment centers just to beat the due date of your bills.
Three of the most accessible facilities for settling your bills are available through Citystate. With over 2,000 BancNet member ATMs nationwide, you can easily pay your bills without having to go far from your office or your home. For even greater convenience, pay your bills in the comfort of your home or office by logging on to citystatesavings.com. What's more, the transaction date serves as the actual date of payment. So no more worries about being charged late payment penalties. More importantly, there's no need for you to go to your branch-of-account to enroll the companies you want to pay.
With Bills Payment through Citystate Savings Bank, transactions are faster, easier and more reliable.
Pay Bills via Internet Banking
Bills you can pay
You can pay various credit cards, telecommunications, utilities, pre-need and insurance companies, Internet and cable service providers, and NSO Helpline Plus. You can also pay loan amortizations to banks and finance companies, school tuition fees and remit donations to certain charitable institutions.
ONLINE SHOPPING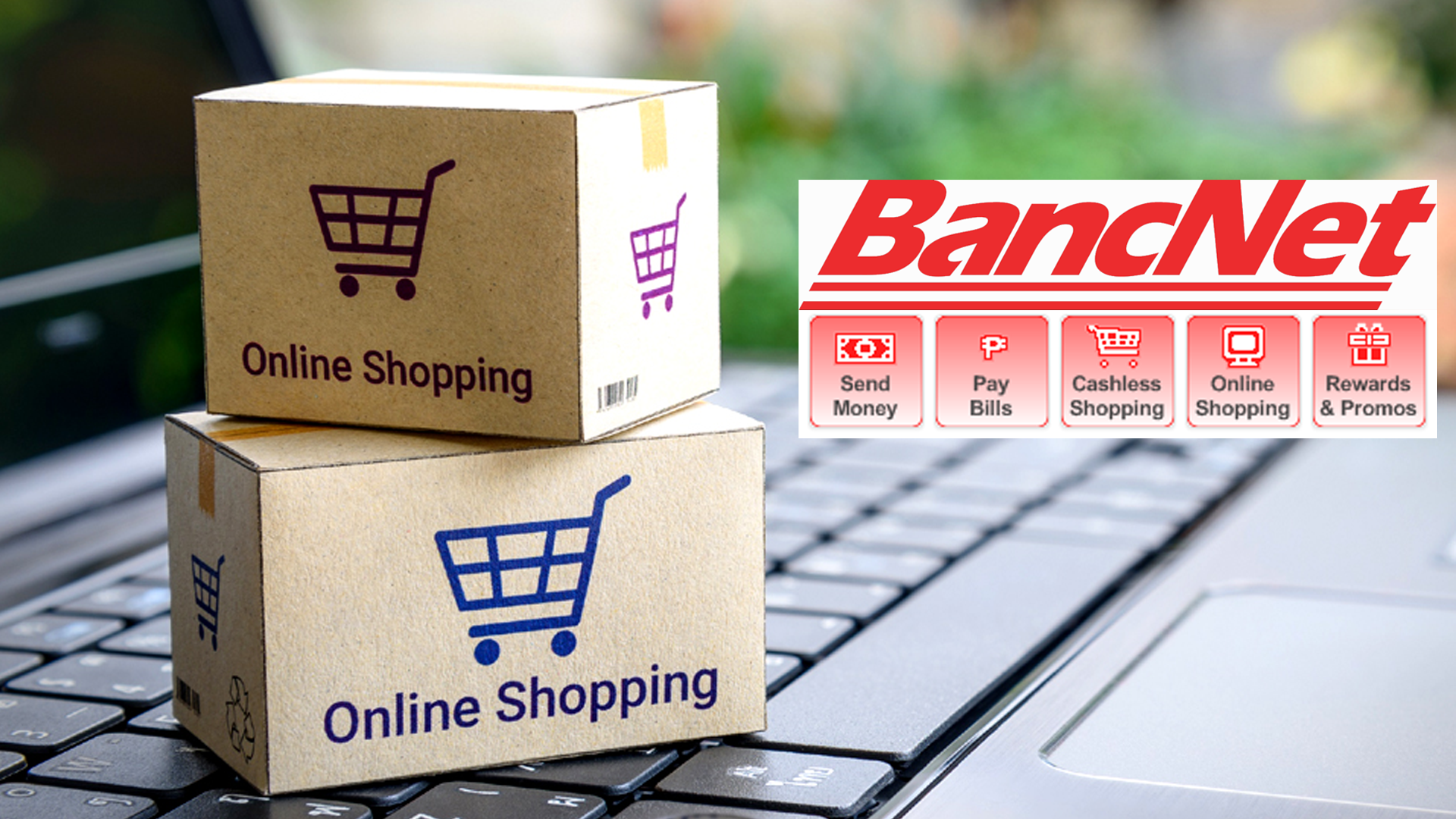 WE TAKE CARE OF YOU
Citystate Savings Bank cardholders can now purchase and make payments at accredited ecommerce merchants and websites simply with their ATM Card. From airline etickets to online tuition payments, paying online with Citystate Savings Bank has become simple and more convenient.
With Citystate Savings Bank, you can shop online even without a credit card. Simply use your Citystate Savings Bank ATM card. Shop and make payments online anytime, 24/7.
---